Wondering what this Techie has to do with farming ?
Well turns out, a lot !
This piece exposes my infrequent foray into farming, my love for growth and development and the way technology affects farming in this time. I also discuss the depth of technological penetration in local farming communities within the scope of this article. I journal the role non-governmental organisations(NGOs) play in the local scene, opportunities abound in the sector, the art of community engagement, penetration and negotiation in a subtle approach.
In short, this piece is about an adventure. 3, 2, 1 ...
Let's dive.
CONTENT
Introduction
The Journey
Engagement
Farming and Technology
Issues, Solutions and My Proposal
Business and Value Chain Prospects
Conclusion
INTRODUCTION
My initial incursion in commercial farming as an adult was in the last quarter of 2016, working for a start up in a digital and business support role. My stint there was short but my exposure was wide. It was at this company I first built a business website. At the time, the company ran a budding export company alongside the consulting side of the business. The prior experience of our lead in the field of agri-business influenced our attempt at the agri-export chain. I was a part of this movement. We were trying to export a cash crop with targeted foreign demand at the time. We quickly made connections to export markets. I brought to bear all i knew about farming and started to learn all that was relevant to this agribusiness.
Networking led us to the Agra Innovate trade show in Lagos. An opportunity to network, market and also learn more about the business. It was at this summit I got carried away by the focus on tomato exports. At the time, the hot topic was the over 40% post-harvest loss across the tomato value chain in Nigeria. In Nigeria about 200,000 Nigerian farmers grow more than 1.8 million metric tons of tomatoes per annum on approximately 170,000 hectares, against the demand of 2.3 million MT per annum. This leaves a deficit of at least 500,000 metric tons. These post harvest losses occurred partly due to lapses in preservation, low productivity, poor transportation, near absence of commercial scale technology, imbalances in market forces as well as inadequate post-processing. These issues all came on the heel of a wide spread pest attack which had exposed the porousness of the country to looming dangers of food scarcity.
Unfortunately, tomato wasn't our primary focus at the trade event. We were focused on another cash crop - Fonio. However, I allowed myself soak information as i went from stall to stall, learning all i could from the event about agribusiness while marketing.
My experience here is noteworthy as it marked my first sojourn into agribusiness. Though unrelated, I had another short but very practical stint in animal husbandry and livestock business almost 2 years thereafter in the ancient city of Ibadan. I may someday detail that sojourn. This tale is for 2019.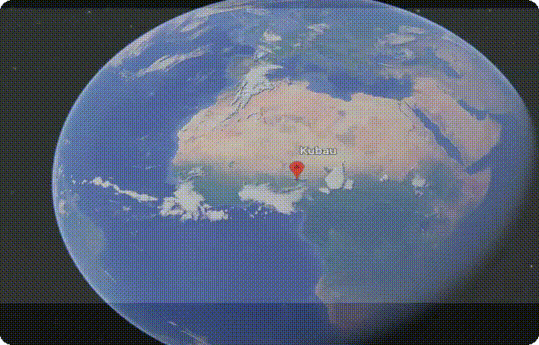 Fig. 1 Map View of Kubau
2019 - Kubau
Fast forward to a time in 2019, I was a freelance developer working out of a co-work space in northern Nigeria, I was mostly on my laptop ironing out JavaScript. A friend encouraged me to volunteer for a contract role as a Local Community Trainer (LCT) for an International agri based NGO undertaking a large scale agri project across mostly northern Nigeria. I leveraged on my earlier mentioned foray in agriculture which placed me in good stead.
At the one week training, we learned the goals of the job. That is, reducing post-harvest losses in the tomato value chain to improve smallholder farmer livelihoods in Nigeria. We were to go about this by data gathering and capture, training and retraining of local farmers, Identifying and analysing needs based reports, incentivization and the establishment of communication channels with relevant stakeholders. It sounded like boardroom stuff or the procedure for corporate marketing but this was way way localised and as I would eventually discover, more intricate. Personally, I saw an opportunity to improve my command of the local dialect(Hausa) and engagement/identification of viable business opportunity along the supply chain. It wasn't full-time but required certain amount of hours a week and this was to last through the Dry season. I found out it was possible to merge the time with my computing pursuits. Field days were the toughest. I buckled up for the experience.
We learned the art of community engagement and the necessity to understand and abide by the culture we were to face. These things were key to manoeuvring the tribal dichotomy still prevalent in these parts in order to execute the task. Some of us were familiar with the local culture. We had some indigenous people aiding the work.
However, it is easier said than done.
Thus did I begin my sojourn in Kubau.
THE JOURNEY
We were in teams. My team consisted of a group of 5 with one lead reporter(we sometimes alternate this duty). We were spread across identified communities under local government(s) bordering different states. It was at least a good 3 hours from Kawo, at the fringe of Kaduna main town. Our mode of transportation: we mostly carpooled. I must mention, it is hard to avoid wear and tear for any vehicle that undertakes a 4 hour journey on very patched-up stretch of road. Irregular car break downs got us accustomed to the public transportation that consisted of ramshackle buses, wagons and space buses at various undefined stops. Then, the aim was getting to the destination and accomplishing the objectives. Also, it is important to know the pronunciation of some bus stops to avoid getting lost. The generally spoken language is Hausa. In the depth of these parts, you'd barely hear a word of English spoken. We drafted reports, made observations, met up at specific times, re-strategised, acted as the link between the communities and the NGOs, while meeting our targets.
Similar teams were distributed across the focus areas. That is, the areas where post harvest losses were most prevalent in the farming regions of northern Nigeria.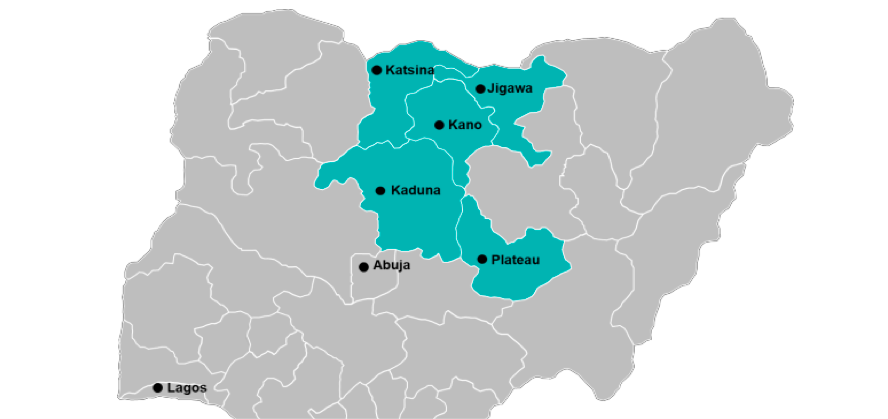 Fig 2. Major Tomato farming states with significant Post-Harvest loss in northern Nigeria (2018)
On field days, days like this, I shut my laptop, relegate programming to my mind, wear my boots and pick up a hoe.
ENGAGEMENT
Our first few weeks were subsumed establishing relations with the village/community/farm leaders. For effective coverage, we would split communities and target each scope in twos. Attached with well structured data templates, we probed for relevant information and assembled the data into something cohesive. Our most efficient tech was a customised android tablet, equipped with a detailed custom form app. This device had some offline capabilities that gave room for activities like farm mapping and data collation.
Local heads would usually inquire about our purpose and then connect us with those who can assist within the community. This would include the most literate and effectual individuals for the tasks. It is important to note that here, some of the traditional heads also serve dual functions as religious leaders. On our part, we sieved for suitable leaders and made draft assigns for the parts of the programme. We swiftly began engagement with the farmers and sensitised them on our purpose. We undertook the first of other seminars on enlightenment and then several others on; yield improvement methods, pest control, techniques and tools such as the ZECC setup and Zinc dryer.
Our meetings followed a similar path. Pass the meeting notice to stakeholder, Identify and secure the meeting location, prepare the man power, learning resources(books, pamphlets etc), then send out reminders prior to and on the event. It is worthy to note that we had to work around the farmers schedules as they had market days and days for aggregator interaction or local events and we had to make sure these things don't clash or spill over into our agenda. These meetings also involved light refreshments catered for by the project.
We would plan out the agenda for the seminars and then effect necessary translations even including the learning material even before our journeys. Engagement is not a one off affair but an attempt to establish, if possible, life long in roads into the select farming communities to enable growth monitoring, keep a tab on opportunities as well as provide the farmers with access to resources and information they otherwise would not have known.
How did i deal with the difficult translations? Here's a pro tip: google translate Hausa is quite an effective tool. I used it to pre evaluate discussions and responses, some of which have now become a part of my vernacular vocabulary.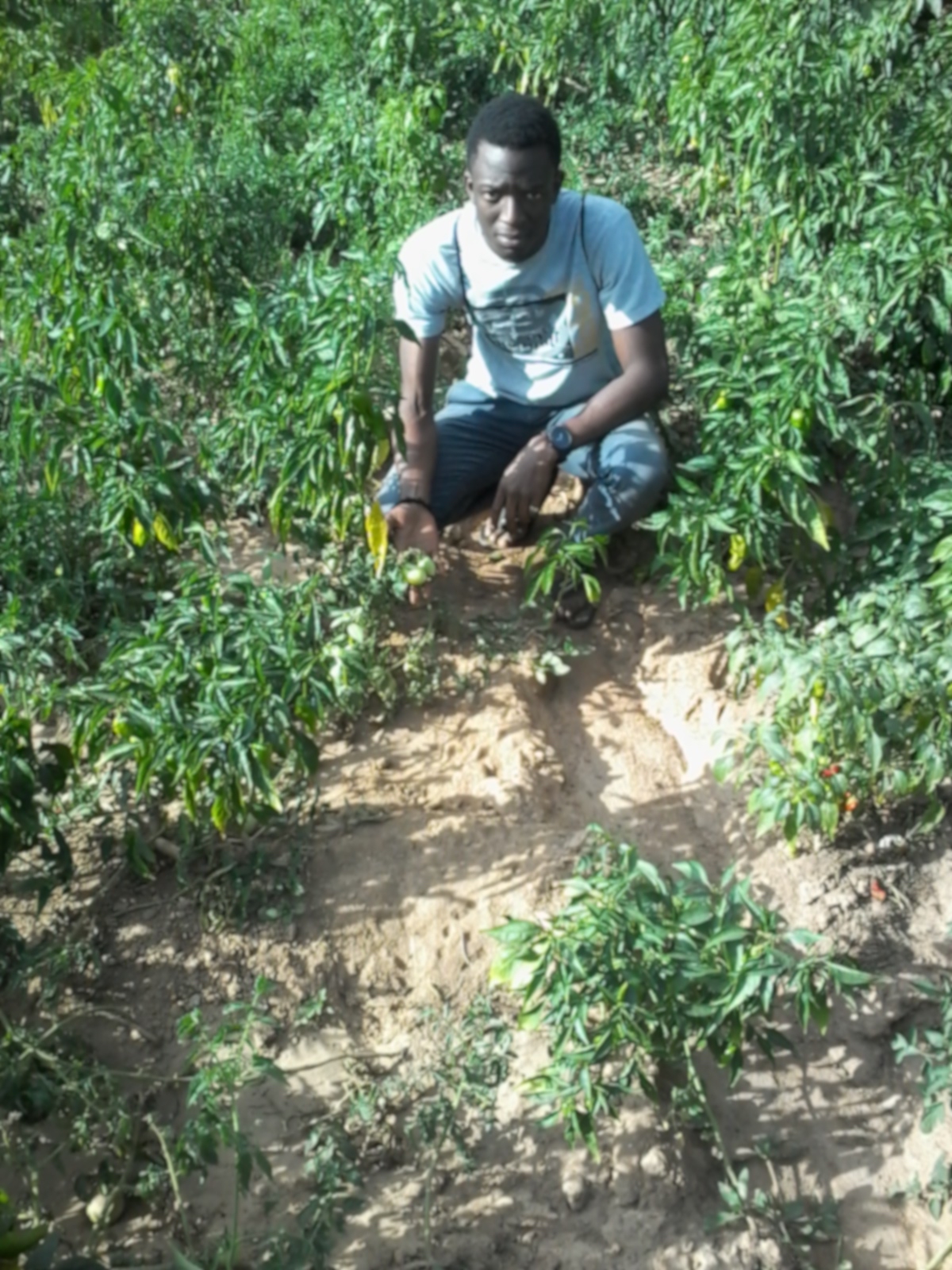 Fig 3. On a tomato farm in Kubau
FARMING AND TECHNOLOGY
Earlier i mentioned the Dry Season. The Wet season covers the months of May through September in Northern Nigeria. It starts a month earlier and ends two months later in the southern Nigeria. The dry season occurred in the other months. I was engaged toward the ending of the wet season. The seasons are important in farming because they enable long term projections, help with crop rotation and also determine farming schedules; planting, harvesting etc.
Other major cash crops grown in rotation around these parts include; peanuts (groundnuts), sugarcane, onions, soybeans, maize, zobo (hibiscus leaves) etc. These other cash crops play a large role in the living standard of the area and its locals. It is important to note that tomatoes and onions are perishable products but also products that are readily consumed(market availability) all year round.
Tools: The farmers made use of local farming tools and techniques as stable power is absent in these parts. The power lines also do not extend into the farming communities. This put a cap on the potential farm yields as the seasons count by. These tools include, hoes, cutlasses, sickles, shovels etc. and it is exceedingly labor intensive with farmers heading out to the farm in the mornings and coming back at sun down on farming days. Rough and inadequate landscaping also ensured that mechanical tools wouldn't perform optimally in farming processes.
Irrigation: Water is life and access to water for farming does make the difference between a good harvest, a poor harvest and a terrible outcome. This is why all the farmers cannot grow similar crops over time or the the same location. My community had a small lake which filled with water during the rains and dries up sometime in the dry season. This water source sometimes allowed water out and i suspect was some sort of aquifer. Farm lands located close to the river bank usually enjoyed better harvest. Capable farmers would sometimes make use of water pumping machines and really long hoses to get water into their farms. Incapable farmers made up the larger demographic and suffice to say, irrigation was grossly inadequate and low productivity, rife. In fact, irrigation made up the bulk of interest from farmers who initially mistook our mission for a charity attempt. Hence, crop choice was heavily reliant on the rains from the skies(seasons) even though arable land abound all year round. This meant that there is usually a glut during the rainy seasons when farmers want to take the most advantage of the easy produce and then a period of insufficiency during the dry seasons when farmers opt for non perishable and easier grown cash crops. These were some of the issues we sought to address.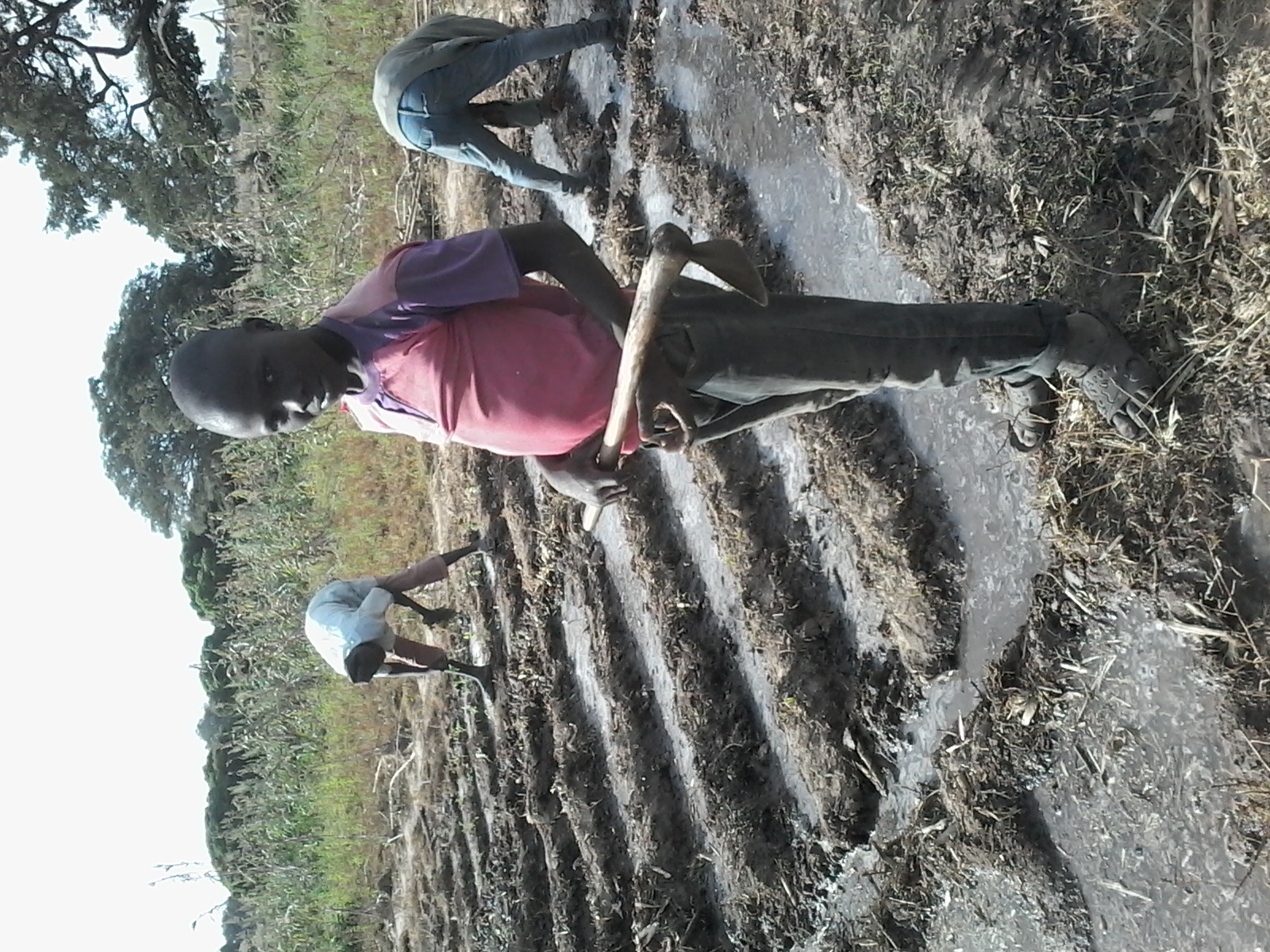 Fig 4. Preparing a tomato farm and Irrigation
We weren't the only players in the game as several other players and stakeholders had existed long before we came. It is important to take note as they play many roles and influence information penetration, pricing and are also market forces influencing price, market demand and also supply. These players include Aggregrators, Offtakers, Sellers etc. Prominent and established players included the Federal Government and global NGOs via the FADAMA projects, Babban Gona(major aggregator) and local players like Tomato Jos amidst a host of others. Farmers usually sell to reliant aggregators or directly in the open market weekly and it is between these two that prices generally oscillate. The aggregators in turn sell to Off takers who move the goods for export or retail. These transactions are made weekly.
Data was conveniently gathered on all metrics and respective players. This data was outlined in Excel Sheets and custom form templates for easy aggregation of data. The farmers operated via bodies such a co-ops locally called kungiya (group) or Kungiyoyi (groups). Thus, to fine tune our activities especially those involving incentives such as access to finance, technology or policy, we operated through such co-ops facilitated by the farm heads to enable proper communication channels and access.
Farming Tomatoes: Tomato farming can be done on an open farm, greenhouses, gardens, pots and containers. Tomato fruits are then harvested after 60 – 90 days depending on the variety. Tomato seedlings are usually managed in nurseries for 3 – 4 weeks. The major varieties of tomatoes used within the farming communities involved here include;
... amidst others.
These tomatoes are harvested at the start of the turning stage, giving them about 7 days until full maturity. These 7 days should ideally cater for packaging from farms and then transportation to the middleman and finally to the consumer. This inevitably meant that there is a rush from harvest to get the goods out fast or stand the risk of the items actually going bad. Here i'd like to give a brief insight into transportation and farmer woes.
In the towns major city, a major market exists at the central market locally called chechenya market. Here is where major retail purchase is made. My farming head regaled me with the tales of farmers who will pour out their tomatoes on the floors of the market and stamp on them with tears in their eyes. Why ? Most farmers saw no need in bringing back unsold produce to their towns because they would have rot. Though this may look like a preservation problem, it is actually a market and supply issue.
In transporting the tomatoes, the farmers were faced with hurdles starting from the packaging of the fruit. Fruits were picked and placed in cylindrical rafia baskets of about 3 sizes ranging from big to medium which are made and sourced locally. The rafia baskets had holes made for air and are also cheap and go for about two dollars(NGN 600 - 850) at the period these events took place. These rafia baskets would be piled to the top like a mountain and are covered with cuts from jute bags to allow air flow.
The rafia baskets posed issues starting from sticking out rafia fibres which would pierce and damage the fruits, thereby hastening the shelf life. Also, bad tomatoes would quickly corrupt other tomatoes thereby hastening the rot process of an entire basket. Though the shape and nature of these baskets allowed for topping up extra produce as well as manoeuvrability while packing them into transport vehicles, this also meant that the produce gets squeezed and is more susceptible to heat and damage which further affects the lifespan. This was another issue we sought to address.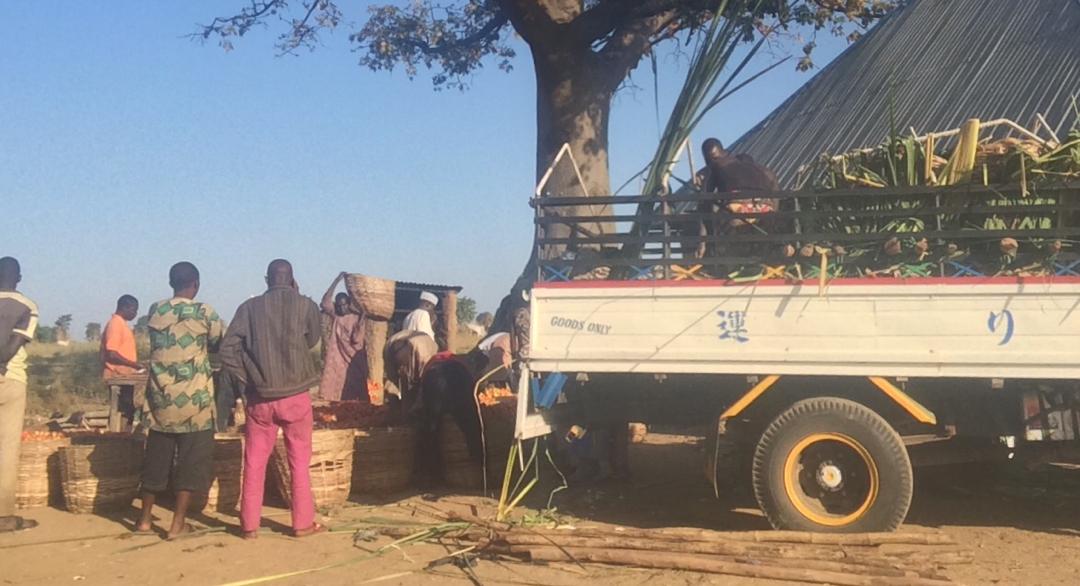 Fig 5. Tomatoes in Rafia baskets set for transportation
Security is key to farming in these parts and though unfortunate, it is important to mention long term schism between farming communities and fula herdsmen. This issue has existed probably long before i was born. It still plagues Nigeria at the time of this piece published. I got to experience it first hand, seeing farmers summoned from their sleep by local calls to rush to their farms to protect it from invaders. I also saw carefully cultivated farmlands trampled and left destroyed by herdsmen who couldn't care less but were much more focused in getting their cows fed. An issue like this is front burner in these communities and can be very easily escalated into violence.
ISSUES
Major issues which could be immediately tackled stemmed from the storage and preservation to the transportation processes;
Preservation
Storage
Transportation
Market and Supply
SOLUTIONS AND MY PROPOSALS
To help the farmers tackle these issues, we embarked on sensitization of farmers through regular meet ups and seminars usually hosted in the communities. Some of the solutions we proposed and facilitated were simple but highly effective.
Preservation: Here we sought to show the farmers better techniques. The absence of electrical supply in these communities meant that electrical cold storage such as refrigeration was ruled out. However that isn't the only solution. With abundance of wood charcoal, we introduced and taught about a not well known but effective technique using of wood ash in tomato storage which could prolong the shelf life of tomatoes for as long as 3 months. We also sensitized the farmers on better ways to manage/handle preservation.
Storage: Here we taught about a local way of elongating the tomatoes life span by keeping it cool before transportation. You have seen ZECC at the start of this write up and here we talk about it in detail. ZECC stands for Zero Emission Cooling Chamber. The ZECC is a brick construction (brick construction is popularly known for its cooling effect in building interiors), which is built by creating a rectangular space slightly below ground level. The foundation is dug slightly deeper and the brick walls are built in two columns leaving a light space between each column. This construction is then elevated to about 5 feet above ground level and then clay(known for retaining water) is used to fill up the space between both columns. All these materials are abundant in the locales including sufficient space for erecting this structure. This construction has one or two removable roof structures(depending on the size of the ZECC) which are built with rafia, wood columns and jut bag cutouts which all allow for flow of air and retaining the internal temperature. This construction can be completed in 2-3 days with all materials available. The farmers can then place tomatoes within the hollow/interior and cover with the rafia bags. The clay filling between the columns are then watered morning and night. This enabled the brick walls to have a water 24/7 and maintain temperatures of 14 degrees celsius or less. During a cold harmattan mornings, these constructions could enable 10 degrees which is sufficient to increase shelf life, control heat and improve storage for up to 14 days. This is not a new technology per say as clay pots were a known way to store cool drinking water to quench thirst in equatorial regions where temperatures could hit 40 degrees plus on hot days. I did build a ZECC with my communities and they went ahead to build 2 more during the course. I would address the use of a Zinc Dryer under Market and Supply as it indicates a new paradigm.
Vid 6. How to build a ZECC
Transportation: Though creating a new transport system, fixing horrible roads or buying new vehicles were far beyond our purview, we could however influence aspects of the process such as the cargo process. Here we introduced RPC(Returnable plastic Crates) made from plastic/rubber for storage and cargo. These were meant to be a replacement and help with phasing out for the rafia baskets and they had seemingly more advantages such as a more efficient way to stack or retrieve loaded crates in vehicles. It also kept the tomatoes better preserved as they faced less damage from heat, in storage or while in transit.
Unfortunately, the RPCs signified a bigger change than anticipated. Just as our current road and car width are carryovers from calculations during the era horse-drawn carriages, the rafia baskets play a major role in pricing as basket sizes not weight are a major determinant for pricing. The RPCs also cost upwards or 5 dollars even with our rebate offers. The absence of wide spread use of RPCs meant that the crates weren't actually returnable as farmers who purchased them would have to wait for delivery to get their crates back. It also meant that the farmers would need a new pricing system probably based on weight. The crates were also not easily stackable for retrieval as the bottom dimension matched the top like a square so they wouldn't sink into each other. This signified the start of poor adoption of this newer method of cargo.
I propose a better solution of rafia crates instead, which can be locally made. It will take repurposing the construction materials of the cylindrical baskets and designing them to carry the weight of the former. The rafia crates would still be as cheap as it is locally sourced. The bottom could be made with less width so as to enable better efficient stacking on retrieval.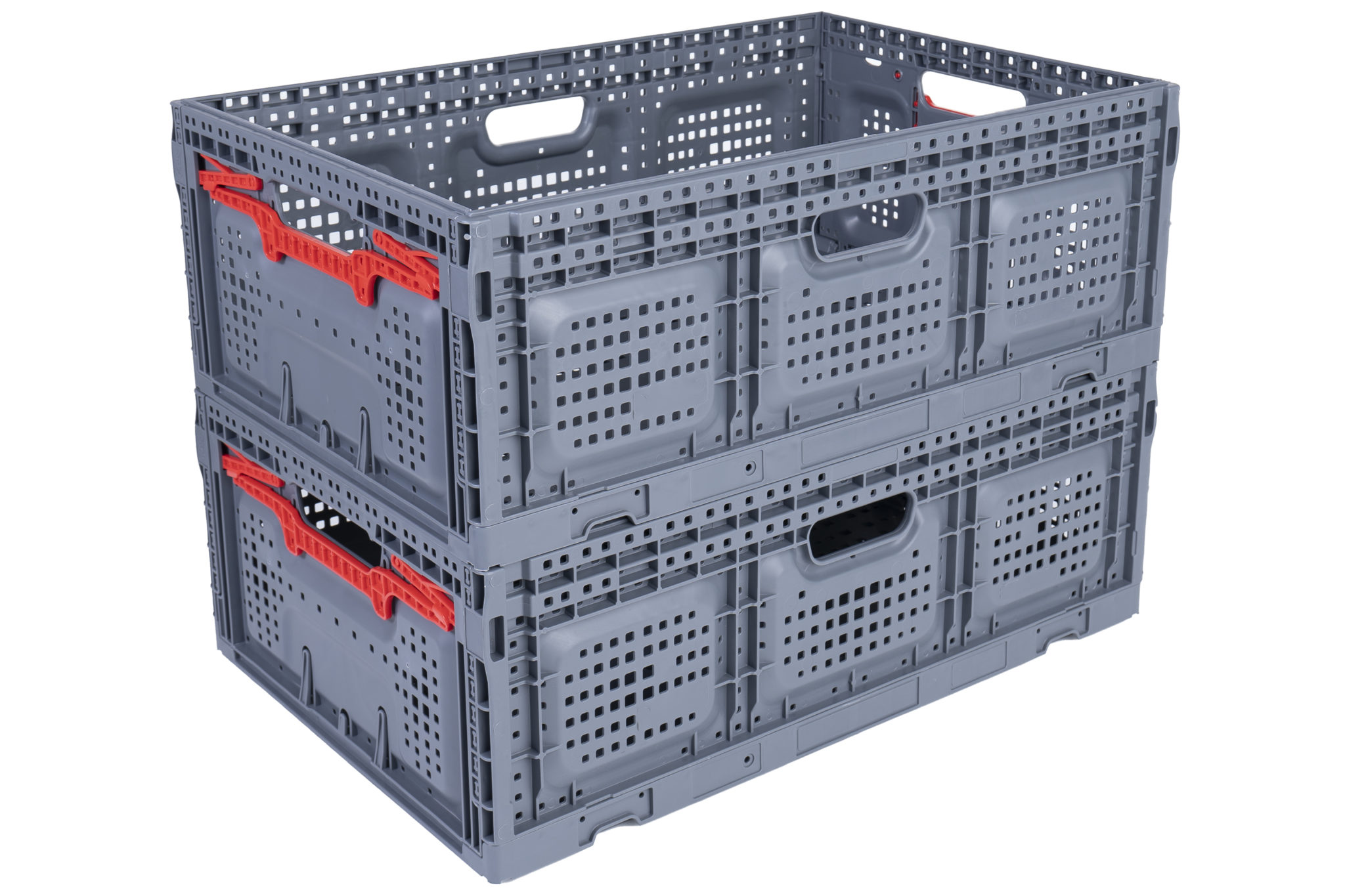 Fig 7. Stacked RPC Crates
Market and Supply: To solve the issues of supply and market meant two things, tackle the product itself and then target inefficiencies in the demand and supply chain. Starting with the product, we introduced a way for famers to reduce their woes. By this i'm referring to the little tale i told in the farming section above. The Zinc Dryer is a type of solar dryer and DIY solution for repurposing rotting tomatoes which buyers and farmers alike reject and whose only former use was as fertilizer.
The Zinc Dryer takes advantage of the sufficient heat in these zones and the ability of Zinc in retaining this heat to create sun dried tomatoes or tomato powder. This Zinc can be sourced from local zinc roofing sheets which are in fact the cheapest roofing solutions across the country. To construct this, Zinc, wood, gauze, nails, metal strings and hammers are more than adequate. This structure can be built locally by creating a square wooden frame. At the bottom of the frame is a zinc sheet. A few inches above the bottom, a gauze is placed which is where the tomatoes will lie. a few inches above is another zinc sheet and above that, another zinc sheet. The effect being that as solar heat strikes the zinc sheet, it soaks the heat and passes it to the sheet below ensuring that hot air is circulated at the top layer. This heat then hits the tomatoes on the gauze below, shriveling and drying it up further. The zinc at the bottom ensures that heat isn't lost in this process but is kept circulating to further dry the tomatoes. This process can dry up tomatoes in 30 hours. Of course, there are much more efficient designs for the solar dryer but my described design above is cheap and can be done yourself in a day with the materials available.
The zinc dryer showcases a new paradigm as dried/powdered tomatoes isn't popular in the market even though it is still efficient and nutritious. This is due to the agrarian nature of the country and an averse nature to consuming heavily preserved perishables. Apart from that, other challenges are the final outcome whose color may take on a dull red which doesn't quite portray tomatoes as we know it. These challenges can be overcome somewhat. Whereas, products from the Zinc dryer would mean that dried tomatoes can then be exported to further markets thereby improving supply and storage.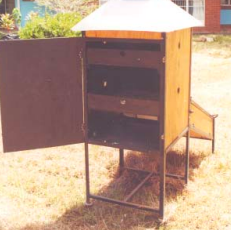 Fig 8. Domestic Zinc Solar Dryer
Inefficiencies in the supply chain include barely functional transport vehicles whose regular breakdowns in inter state transportation meant shorter shelf life for the products. Hopefully with better efficient transport systems, tomatoes could be delivered by train to Benin from Kaduna in less than 24 hours rather than the lucky 48-72 hours currently attainable. I mention Benin at this point because i did attempt to introduce new supply routes to the farmers but absence of capital and risk meant that that venture had to be paused.
BUSINESS AND VALUE CHAIN PROSPECTS
In finding solutions, one cannot extricate the product in the business from the business of the product. I have mentioned ways to improve the products preservation, storage and transportation but we know change is easier said than accepted.
In improving the value chain, solar dried tomatoes if properly marketed, can be readily adopted with the right packaging. It is also cheaper and easier than processing tomatoes. It cuts out waste and produces joy for the farmer who wants nothing more than the consumption of produce in its entirety.
Markets abound and the dynamics of market demand and supply are ever changing. Finding new markets is also key to stabilising prices during peak and off seasons. One with the right capital and morale can identify and introduce new markets. This will also spur the farmers to grow tomatoes even during the dry seasons.
Greenhouses are not common in Nigeria. This is partly due to the absence of winter but more importantly, knowledge gaps on how green houses work. Before this sojourn, I was partially involved in a bamboo greenhouse project which died prematurely from lack of government interest and poor adaptation. These greenhouse made from Bamboo were cheap and efficient and if constructed in their numbers, could make a great difference in the supply chain.
In improving the value chain, I also propose tackling the irrigation challenges mentioned above as a lasting panacea to this issues. With the availability of aquifers across the country, boreholes can be easily sunk to get water for farming activities. Irrigation is actually the difference between sufficient supply and insufficient supply in these parts. Also the absence of power meant that farmers cannot evolve to industrial processing techniques. Though there is still much room for perfecting the current processes. Tackling these issues calls for government support and intervention though.
There is a lot of room for business opportunities from sale of some mentioned equipments to even sensitization. Though my sojourn here focuses on Tomatoes, these farming communities go way beyond tomato production and are deeply involved in other produce. There are viable cash crops such as soya beans etc. and quite easy ways to capitalize on the markets. For example, purchase of some cash crops during peak seasons can yield over a 100% gain if sold some months later during off season. These a just a few agribusiness tricks i got to learn during this sojourn. Of course the requisite capital and network play a huge role.
There are still a lot of processes that can be mechanised such as destoning of beans or in the separation of bark from crop. These processes are still carried out in very crude manners and affect the final output of the product. These are areas where capital and power supply can make a very huge difference.
CONCLUSION
My sojourn here cannot be complete without mentioning the efficacy of those i worked with from my supervisors, teammates and especially the farming communities who were receptive. I recall Hajia, who was my community farm lead. Hajia took me close and would spur farmers and hands where required to reduce the stress of the job. She also made me improve on the spoken dialect and made worthwhile introductions where necessary while enlightening us on the local field and its players. She gave me valuable information which was necessary for the success of this sojourn and my experience as well. We still speak.
I enjoyed local dishes such as maiyan taushe and masa, during stop overs with my team mates at Zaria, or snacks like Tsakin-pate(pa-tai), awara , alale, maiyan kuka to mention a few which Hajia sometimes prepared or we bought after long farm days.
The ingenuity in farming and taking development beyond the keyboard goes beyond the farm or hectares/acres of land being used. I mentioned earlier that on non farming days, I would be back at my desk writing software code just as i'm writing this piece. In the tech hub/community back in Kaduna town, this ingenuity could also be found as agrarian kids sought solutions to farming problems at home. I got to see a young man in this tech space build an IoT device which could relay livestock data such as temperature levels, livestock count etc. to anywhere or anyone with an internet connection. A farmer could even turn on/off the lights/heating remotely via this very small device which is key in poultry farming. The prospects for technology in improving farming processes are still being pursued. Though i observe that sometimes, talented individuals such as these as sometimes snatched up by the 1st world before they have time to implement or permeate these processes.
There have been big players who have gone into farming and failed or had are rethink such as the Dangote Group. Worthy of mention is Tomato Jos which has showcased resilience and has carved a space for itself in the tomato processing and supply chain business. Nigerias import policy which enables importation of processed tomatoes also stifles market growth but should not be a determinant in going into this market. Why? because export opportunities abound and i know this from my agri experiences. One does not have to focus on the local market to be able to make proper gains. Even though i see the wisdom of free market, I support a level of control to enable local players and SMEs to survive in unmapped/rugged business terrain(s).
My hope is that this exposé showcases opportunities, issues and spots for improvement. It also shows that farming can be embarked on by anyone with the right drive. There is profit in the sector as a viable motive to engage and improve the community around you. Before the end of this sojourn, I had interacted with over 500 farmers, facilitated 3 ZECCs and some Zinc Dryers, made new friends and built a network within the space and enabled improvement in the agricultural processes and the community as well. Incase you feel there isn't much profit in food, I quote my sister who frequently reiterates that 'feeding can never run out of business because people just have to eat'. That being said, my foray in farming/agribusiness is far from over.
I have observed that though farming is a long term investment, sadly most people rush in for quick gains thereby loosing sight of what is important in agribusiness. Farming itself teaches patience since a method to hasten the timeline of tomato growth doesn't exist yet. It must follow the natural order as is obtainable in many other spheres of life. I would know this now, being a quasi-farmer myself.
RESOURCES